Pricing strategy is a key contributor to product adoption and overall market competitiveness. But basing your pricing strategy on a rumor can be a dangerous game, that is why we have created this ultimate guide to help monitor your competitors' pricing.
Why do competitors' prices matter?
There are 5 core benefits to gathering accurate competitor pricing, and these can have a ripple effect throughout your organization.

1. Profit Optimization
Product positioning via pricing strategy enables you to squeeze out every last drop of profit opportunity in sales transactions. Understanding your competitive landscape, their product or service differentiators, and the respective pricing for those services enables you to identify untapped opportunities that can be leveraged via a creative pricing strategy. Maybe your customers desire a higher quality service and are willing to pay up for that level of service, compared to your competitors perceivably "cheap" offering. Or possibly, you can slightly undercut your competitor and capture price sensitive customers with a much lower customer acquisition cost. At minimum, if your product or service is as good as your competitors, you can match their pricing and let your salespeople do the rest!
2. Market Penetration
If you have supply chain advantages or cost controls that enable you to be a "loss leader" to capture market share more rapidly than your competitors, knowing their pricing can be pivitol to your success with this strategy. We think of this as your "no brainer" price. What price can you charge that would get your prospective customer to drop their current vendor or try out your service without a second thought? The good news is, generally this doesn't need to be more than 20% lower than your competitors unless there is a large gap in product functionality.
3. Lead Don't React
Tracking your competitors pricing over time gives you deep insight into their strategy. If you notice they are starting to follow you, you are the leader and get to control the narrative. If you notice they choose to boost their prices, their team is likely positioning themselves to be the enterprise solution, which will leave open a huge opportunity to capture SMB and Mid-Market prospects.
4. Test Your Limits
Knowing your competitors pricing gives you one more lever to differentiate your own offering. You might want to A/B test a higher price to capture the perceived quality your brand represents. You'd be surprised what psychological effect this can have on your position in the market.
5. Go On The Offensive
Attaining a new customer costs a lot more than keeping a current one. Being proactive with your competitor pricing monitoring enables you to get ahead of any competitor strategies to undercut your pricing and steal your valuable customer base.
What are the challenges with competitor price analysis?
1. Errors in pricing research
Analyzing competitors' prices can be prone to errors if you use the wrong price gathering tools or depend on a single source of pricing information.
In many industries, particularly retail, the selling price of products can change daily, in line with promotions and offers. As a result, if you're comparing prices infrequently, you can easily find yourself with incorrect matches missing out on opportunities.
2. Finding an apples to apples comparison
It can be tricky to compare pricing across a spectrum of competitors as their functionality likey differs per product or service offering.
There are other factors to take into consideration like overall value proposition, brand power, features, functionality, and other competitive differentiators that may justify a competitors price.
3. Understanding direct sales vs Ecommerce Pricing
Their can be a wide gap between what a salesperson is selling a product for and the online price. Generally the customer acquisition cost is lower online so the online pricing is representative of that efficiency and can tend to be cheaper. Comparing your digitally gathered data to your salespeople's feedback allows you to map out the digital vs direct pricing.
4. Taking a short-term approach to pricing
Depending upon your business, it can hurt your brand and create confusion with customers by changing your pricing too often. The one exception to this is highly transactional e-commerce sales which tend to fluctuate day to day. Most pricing strategies should be long term and not reactionary to competitors prices in the near term. Remember, they may just be A/B testing a price. It is generally best to stick to your strategy until your A/B finishes or your market changes and that change will have a material impact on demand moving forward.
Where can I find competitor pricing?
Before we dig into the 11 ways you can find competitor pricing, it is important to understand that there are two primary vectors for competitor price gathering. The first is to gather information digitally. This information can be spread across the web; we have detailed several key sources below. To monitor these digital properties requires a toolset enabling you to monitor individual pages and whole sites for updates. With Wide Narrow, you can use our out-of-the-box web scraper and RSS aggregator to ingest data into information monitoring areas. But what if a site has a complex page structure or you need to monitor changes? This is where our partner Visualping comes in. With Visualping you have the ability to monitor pages and their AI toolset identifies page changes, highlighting the key differences and pushing that intelligence into Wide Narrow monitoring areas for additional analysis.

The second vector for gathering competitors' pricing information is by leveraging the power of your internal staff. We will get into more details on this below, but you would be amazed at what valuable information your colleagues possess.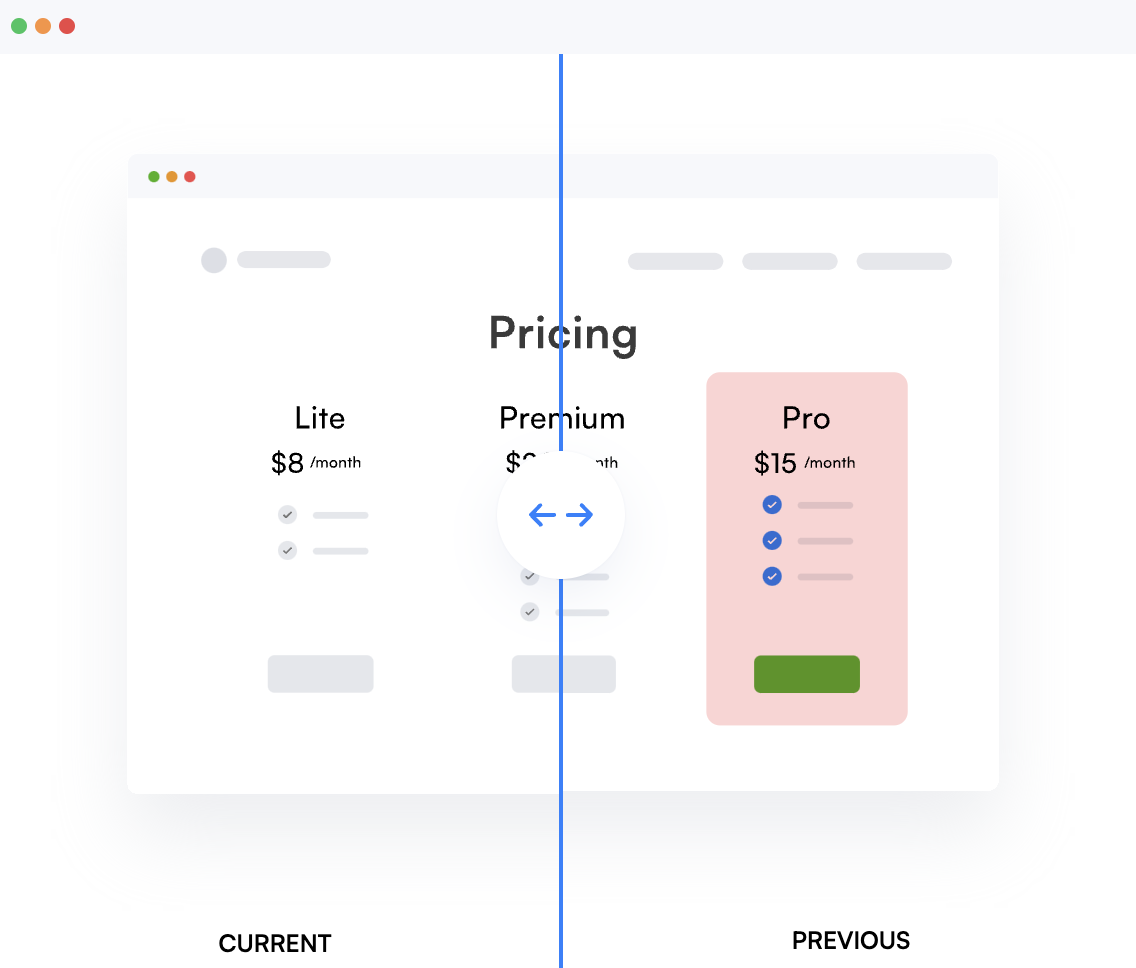 1. Competitor Websites
Using a tool such as visualping, you can monitor competitor pricing pages, solutions pages, and offering pages to identify changes that are detected. By the way, if you want to include that data in your market analysis, you can always push your change detection alerts into Wide Narrow 😉
2. Reseller and Partner Sites
Your competitor may hold their pricing close to the vest, but their partners may be a bit more loose lipped. Check out your competitors reseller or partners websites, they may just a have a pricing page or blog post comparing their prices to their competitors.
3. Government Sites And RFP's
Many municipal, state, and federal governments are required to publish contract awards online. You can easily comb through these announcements to see your competitors pricing and the bid breakdown.
4. Freedom of information act
Speaking of government bids, in the United States you can always request details on a government awarded contract via the freedom of information act. Unless the project is truly classified, they are required to provide you with details of the bid and selection process. A forewarning, it can take a while to get that data, but the details are usually worth it.
5. Presentations From Industry Analysts And Consultants
With the digital age increasing the reach of content production, most analysts and consultants publish their research online, including objective competitor analysis. This can often be found on Slideshare or paid for directly through the analysts website.
6. Board Minutes and Business Plans
Occasionally, companies publish their board meeting minutes online. This can be a treasure trove of insights including discussions on the competitive landscape and pricing strategy.
7. Discussions on Quora
It is likely that one of your competitors customers are active on Quora. Do a quick search to see if anyone else has shared your competitors pricing, or ask the question yourself. You are likely to get a pretty accurate response!
8. Posts on software directories
Software directories like G2, Capterra, and Product Hunt thrive on transparency and information accessibilty to help their customers make an educated software buying decision. Because of this, your competitors pricing is likely list on their profile or embedded in one of their custom reviews.
9. Searches on Google
Google indexes everything! It is kind of their life mission. To find your competitors pricing, try this little search hack. Type your competitor name+ pricing + "filetype:pdf". Try this same strategy with "filetype:ppt" as well.
10. Ask Salespeople
We saved the best for last! Salespeople talk, and sometimes at conferences they have a drink or two. Ask your salespeople to contribute any information they have on competitors, competitor pricing strategy, and to share win/loss data with you to support your analysis. As a matter of fact, Wide Narrow can integrate with Slack, Teams, and Salesforce to help you tap into this information. One word of caution, this should be used to support your other research sources as Salespeople's feedback can vary based on their particular situation.
11. BONUS - Ask Your Prospects
Your prospects want the best solution to their problem at the best price. In an effort to achieve that, your prospects may be willing to share your competitors pricing and differentiators. This helps them have confidence that they are getting a reasonable price from you and clarify any features for their like for like vendor analysis. In return, you can get very up to date information on your competitors pricing and overall sales positioning.
What do I do with all of this pricing information?
It is one thing to gather pricing information, it is another to analyze the multiple data points objectively and develop a strategy. That is where Wide Narrow comes in. We help you gather all relevant competitor pricing information in one place and give you an analysis workspace to draw parallels to produce actionable pricing insights. Once you have put the pieces of the pricing puzzle together, you can easily share this information with your colleagues via our interactive dashboards, newsletter module, and PDF reporting engine.

Want to learn more about how Wide Narrow can help you get competitor pricing? Schedule a live demo with one of our solution experts here.